Post by Ajax Panhellenios on Oct 16, 2017 10:02:58 GMT -6
Full Name:
Ajax Panhellenios
Codename:
Ajax
Aliases/Nicknames:
Son of Hercules , Ajax the Mighty , Jax , the prodical son , The prince of power , the Wolf of Olympus , Olympian
Birthplace:
Asgard
Hometown/Base of operations:
New York City
Species:
Olympian/Asgardian Hybrid
Gender:
Male
Age:
30
Alignment:
Hero
Affiliation:
Olympus/Asgard
Avengers
PHYSICAL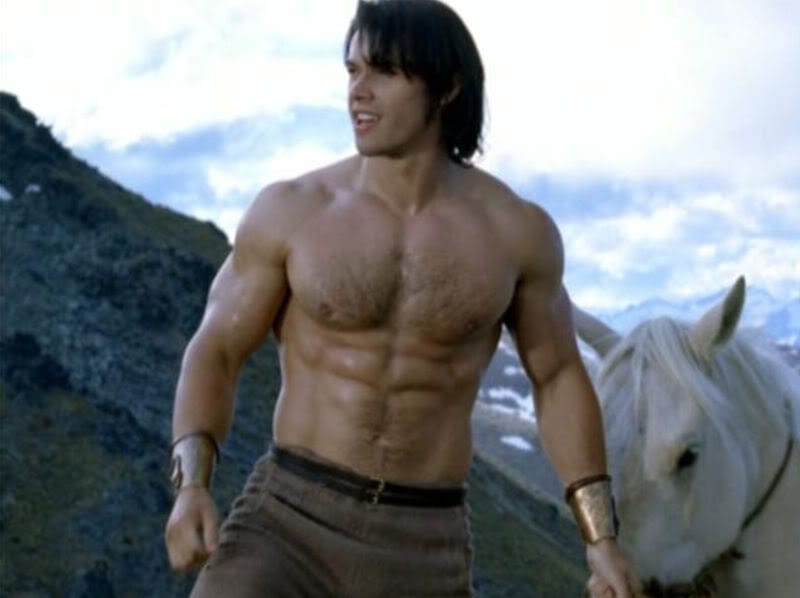 Height:
6'8"
Weight:
560 lbs
Hair Color/style:
Black
Eye Color:
Brown
Anything Else:
Equipment and Weapons:
Olympian armor gifted to Ajax by Zeus , it is lined with Adamantine and is extremely strong capable of enduring damage as Ajax himself. It is crafted by Hephaostos and grants protection against blunt force but it can be cut along the grain
Arion:
Ajax' loyal steed and son of Poseidon, Arion is a large and muscular steed with a wingspan of 18 feet. He is capable of flight at high speeds and can carry large loads while maintaining these speeds for longer periods of time he can carry 2000 lbs while retaining a respectable pace. Arion can fly at speeds ranging up to 200 miles per hour. He can fly at his top speed for about one hour before needing to rest. Though he generally flies beneath the height of the clouds (6500 feet), Arion can reach a height of 10,000 feet with little effort. Arion is highly intelligent, capable of speaking and understanding human language as well as telepathically communicate with Ajax.
Blades of Ajax:
Gifted to Ajax by Odin, crafted from Uru by the dwarves of Nidavellir and enchanted by Odin. The swords are connected to Ajax and can be summoned from great distances. Their form can be changed at will and though usually in the form of swords they can also be changed into hammers , war axes and other weapons.


Armory:
Ajax inherited Hercules' armory which includes the Sword of Peleus , Bow and Arrow of Hercules , Shield of Perseus , the Nemean Lion Skin as well as clubs , swords , spears , shields , javelins, maces , axes and various other ancient weapons.
Powers:
Superhuman Strength: Ajax has been blessed with great strength allowing him to lift massive amounts of weight. Though he is not as strong as his father yet , he is still capable of lifting 100 tons easily.
Superhuman Speed: Ajax is able to run and move at great speeds , his top speed is around supersonic speeds.
Superhuman Stamina: Ajax has superhuman stamina and is capable of performing at peak capacity for unspecified amounts of time , the exact limit is not known but the most he has gone is several days.
Nigh invulnerability: Ajax' body is highly resistant to physical trauma , he can withstand all diseases and foreign chemicals , he is capable of surviving extreme temperatures and pressure as well as blows from those equal to him in strength for a certain amount of time.
Regenerative Healing Factor: Despite his durability Ajax can still be hurt but he can heal from most injuries short of lost limbs and organs on his own. Broken bones heal within minutes to hours and cuts and bruises in seconds.
Immortality: Ajax is immortal and has not aged past his prime, he is immune to the effects of aging and will not age physically. He is self sustaining and does not need air , food , water or sleep.
Superhuman Senses: Ajax' godly senses are enhanced to the point that he can see for hundreds of miles clearly, hear a blink in a tornado or a butterflies heartbeat in Africa, and smell someone from across the globe. He has trained his senses so that he does not go crazy from all the sensory input.
Flight: Ajax has demonstrated the ability to fly under his own power , he can fly as fast as he can run.
AllSpeak/Tongue: Anyone who speaks with Ajax will hear him in their native language, this works both ways and in all of the languages , Earth's dialects, and various alien languages.
Energy Manipulation/sorcery:
Ajax has a natural affinity for magic , he does not know convential magics like spell casting and such but has shown various abilities through his energy manipulation. He is not nearly as powerful as Zeus is but has shown the ability to shapeshift into humans and animals , communicate with animals and other beings.
Skills:
Expert Combatant: Having been trained since he could walk and fighting shortly after that, Ajax is a skilled fighter and a master of Pankration which is a combination of Greek Boxing and Wrestling, having been taught by Hercules who was once thought to be the best fighter in the world and having been raised in Asgard and on Olympus. He has recieved extensive training in Asgardian and Greek martial arts and warfare and is considerably skilled in them though he lacks his father's extensive experience despite this, he is currently one of the best combatants out of all the Olympians, rivaled only by Ares and Hercules.
Expert Marksman: Ajax is able shoot his bow and arrow as well as throw weapons with great aim and overall accuracy.
Expert Hunter: Ajax is a skilled hunter and can hunt using bow and arrow or his bare hands.
Weapons Proficiency: Ajax has spent most of his life either learning how to use a weapon or his fists and has used them both in various fights. He is proficient in all Asgardian and Olympian weapons and can use them from horseback with great skill.
Horseback Riding: Ajax is skilled in horseback riding capable of fighting from a horse with ease.
Battle Tactician: Ajax would often go to his aunt Athena and uncle Ares asking them to teach him all about warfare , he is a master in anything related to battle and has extensive knowledge of Greek, Roman and Norse battle tactics.

Eloquent Speaker:
Ajax is oratically gifted and can inspire and often leads warriors of Olympus and Asgard in battle.
Expert Womanizer: As the son of Hercules, Ajax is a womanizer with skill equal to his father using his natural beauty and charm he can seduce most women and even men should the need arise.
1.)Magic:
Divine magic can harm Ajax and he has no real way of defending against this. Certain magical weapons are also capable of hurting him much more easily.
3.)Code of honor:
Ajax' only wish is to fight those he deems worthy so he will not harm an innocent , he will only battle someone who has shown intention of fighting.
4.)Temper:
Ajax has quite a temper and when sufficiently angered will enter a state of rage induced madness where he will attack anything in sight. This is the only way for him to break his code of honor.
5.)Parties and Woman:
Technically half viking, Ajax has a penchant for parties and women and often finds himself distracted by both.
6.)Is there more to life than battle:
Ajax lives to fight, party and sleep with women so he has no real life experience outside of these things. His general knowledge is severely lacking , he is often unaware of human sayings
7.)Not Molly, MOLY:
A herb called Moly disrupts Ajax' magic and weakens him, a potion made from this herb greatly weakens Ajax.
8.) Hubris:
Ajax is a prideful man, he will never back down from a fight or an oppurtunity to prove his worth or manliness.
9.)Spoiled:
Ajax is Hercules' favorite child and Herc and Zeus have both spoiled Ajax greatly, this in turn made him a brat and has caused Hercules to sent his son to Earth so he could become humble.
10.) Achilles Heel:
To learn what it's like to be mortal , Ajax was given an achilles spot on his lower back , opposite of his navel. This spot is mortal and when stabbed or shot it can prove fatal.

11.) Hydra's Blood:
Ajax can be poisoned by Hydra's blood , small doses cause insanity and trigger his berserker rage while larger doses are fatal.
FAMILY:
Mother:
Brunhilde (Alive)
Father:
Hercules (Alive)
Siblings:
Several throughout history
Children:
None
Extended family:
Zeus Panhellenios , Alcmena (Grandparents)
Posidon , Hera Demeter Aphrodite , Hades , Athena , Artemis , Apollo , Ares , Hephaestus ,Persephone,Dionysus , Hermes (Aunts and uncles)
Zoey (Cousins)
Many more extended relatives
THE REST
Personality:
Ajax is a brash, arrogant young warrior and comes across as a very prideful man. He only wishes to fight and party and constantly seeks to prove or challenge himself. Ajax very much looks up to his father and wishes to be as much of a legend like him, because of his upbringing he is a very simple person who is deeply loyal to those he cares about and compassionate to those who need help. He is a man of his word and takes himself very seriously whenever he promises something. He is very much a man out of time and often gets confused by human things and considers mortal affairs trivial, he doesn't seem to care for many things as he has all the time in the world.
Even though he has an immature demeanor most of the time Ajax holds a short fuse and can quickly be angered if provoked. Hercules sent him down to Earth to learn humbleness and the value of human life but so far it has not been working out well, mainly because Ajax has been spoiled by literal gods for most of his life this led to him becoming arrogant and believing that the world revolves around him. He is extremely proud of his heritage and thinks of himself as someone to look up to for everyone.
Despite his somewhat childish like personality Ajax is a brave and courageous warrior, who will not falter in the face of danger and will go on against the greatest of odds. He wishes to protect Earth and the mortals and wants to be a hero like many Olympians and Asgardians before him. He has a strong sense of comraderie and will go out of his way to help a friend in need even at his own personal expense.
History:
Ajax is the son of Hercules , the Olympian God of Strength and the Valkyrie of Asgard , Brunnhilde. After the merging of the worlds Brunnhilde met Hercules and this led to a one night stand, this union led to an unexpected pregnancy , much to the annoyance of Thor. After the boy was born on Olympus under the watchful eye of the gods , Hercules named him Ajax after a great hero in the Trojan War. Zeus and Odin saw Ajax as a great thing, a treaty between these two worlds and a valuable asset and ambassador to both the two All-Fathers struck a deal , Ajax was to be both an Olympian and an Asgardian and would become the one to mediate between the two worlds.

Both Brunnhilde and Hercules decided that the boy would be split between them , Ajax was raised between Asgard and Olympus and his parents stayed on good terms. Ajax was trained to be a warrior from the moment he was born, he excelled in combat and quickly became well known throughout Asgard and Olympus. Hercules often took his son with him to visit Earth and Ajax grew up idolizing his father, enthralled by the legends of Hercules he strived to be like his father and wished to become a hero.

As a teenager he took on the name Olympian and would often accompany his father in his travels to Earth and they fought together against many enemies. When with his mother in Asgard he would join the other Asgardian warriors in battle and fought alongside his mother during these battles. Ajax was truly happy at this point in time and was amused by human behaviour , but the older he became the more prideful he got. Much to the annoyance of his father, who had hoped that his son would be a little less like him in this regard. In these years he befriended and tame Arion his winged horse.

When the battle happened it was only natural for the world's first Hero to join the fight , as did Brunnhilde and following them was Ajax the arrogant young warrior who despite his father's orders to stay put on Olympus came anyway hoping to prove himself. Hercules , angered at his son's disobedience ordered Ajax to stick to helping the civilians escape and survive. Ajax was unhappy ofcourse , he wished to smash heads together and kick some ass instead of sticking to the boring parts of leading people out of the city but he complied with it since he wished not to anger his father further and every so often some cannon fodder came along for Ajax to unleash upon.

Though Ajax was unable to stay put when he witnessed the Mad Titan Thanos grab his mother by the throat and blindly and stupidly rushed to his mother's aid , only to be swiftly knocked away and unconcious by Thanos. This bought Hercules enough time to save Brunnhilde and Ajax was teleported to Olympus by Zeus. He awoke after the battle had ended and managed to see the devestation brought upon New York, Hercules was devestated after having lost so many friends and returned to Olympus. Ajax objected against his father stating that Earth needed him now more than ever, Hercules was angered by his son and remembered some advice that both Zeus and Odin had given him and sent Ajax to Earth instead.

Hercules gave Ajax twelve labors on Earth , similar to himself after he completed these labors he was gifted his armor and swords by Zeus and Odin. Ajax became his father's successor on Earth and inherited most of his father's wealth as well as his appartment and armory. After a while as a solo-hero he joined the Avengers as his father had done before him and has made a name for himself as a hero under the name of Ajax.


Face Claim/Play by:
Paul Telfer
Sample RP:

Police sirens were echoing through the streets of Brooklyn , followed by the sound of a car being thrown into the ground. Three monstrous creatures were rampaging through the streets, the creatures were a minotaur, a giant and a cyclops. These beings of great strength and size were tearing through the police that hopelessly tried to stop the beasts. "WE NEED TO CALL SOMEONE! I DON'T CARE WHO THE AVENGERS THE JUSTICE LEAGUE HECK THE TEEN TITANS OR SHIELD!" One of the police officers screamed into his radio as he had seen that they were clearly outmatched. But as soon as he spoke the words one of his fellow agents tapped him and stared to the sky with an open mouth.

A large man was advancing from the sky as if he was flying, no falling at an incredible speed. It was Ajax who was descending with his fists in front of him as he came down. When he neared the three beings he compacted his body and extended his legs landing with both feet on the cyclops creating a crater in the ground as if an explosion had just taken place. As the dust settled Ajax' figure became clear as he stood there with one foot on the face of the downed cyclops who had his one eye closed. He turned around and noticed a family who had been trapped behind a car, asian tourists as it seemed. He nodded to the police officers and stood in between the monsters and the kids so they could be escorted to safety.

"Thou need not worry for the mighty Ajax is here to protect you!"

He turned to the two monsters who hestitated to attack as they knew who they were facing up against. "Now, shall we wrestle you vile beasts. Thou shalt experience the might of the Wolf of Olympus!"

The monsters both rushed in at the same time thinking that they would stand a better chance. Ajax smirked and prepared as he stopped both their charges with his feet burying into the street. He grabbed the face of the giant and threw him into the ground before wrapping his arms around the waist of the minotaur and driving his shoulder into his gut lifting him up to the ground. Ajax threw the minotaur into the ground and pummeled his face knocking him out too, the monsters started to fade into dust and it began to rain heavily with lightning coming down in the near distance.

"FATHER! Are thou not pleased with me? How do I prove myself worthy more? ANSWER ME"



-----------------------------------------------------------------
Player's Box Name:
Experience:
Other Characters here:
Tyler Hawke , Sam Wyndham
How'd you hear about us?